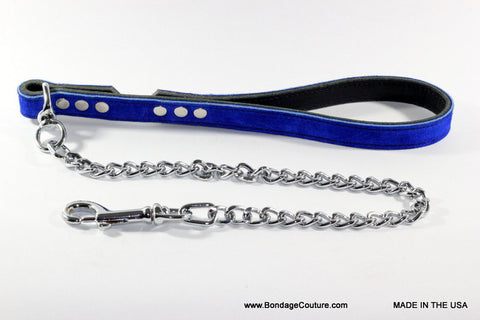 Blue Suede Leather Leash with Chain
Pull playfully with this handmade bondage chain leash handmade with black latigo leather and blue colored suede. This is a handmade leather leash with chain totaling 3 feet from tip to tip. The Blue Suede material is securely sewn on top of a black latigo leather. The handle itself is 3/4 inch wide. We tend to make leashes that will match your collars. Original design by Bondage. Matching collars are available. 
Handmade in California
100% real latigo leather
All hardware riveted in with heavy duty press
Disclosure: This Blue Suede Leather Chain Leash is intended to be used as a novelty fashion accessory and/or as a sexual accessory. Bondage Couture assumes no responsibility for improper, irresponsible, illegal, reckless and unsafe use of this product.
---
We Also Recommend
---